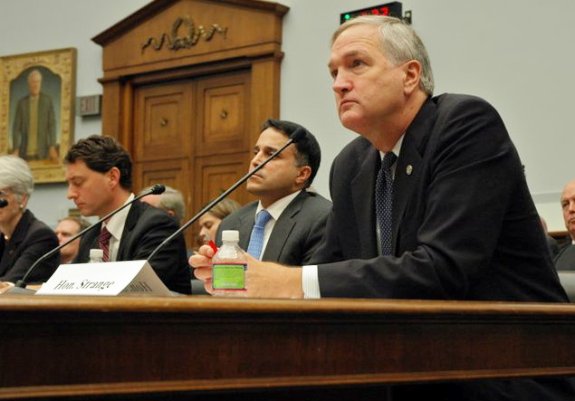 Alabama Attorney General, Luther Strange, testifying before Congress. Photo by

lutherstrange

.
Excerpts from the Immigration Impact by
Wendy Sefsaf
Oct 12, 2011
CLAIM
: Yesterday, Alabama's Attorney General claimed that "illegal aliens" make up a substantial portion of the state's prison population.
FACT
: Alabama's prison population: 31,000 -- 182 of which are currently subject to deportation based on holds placed by U.S. Immigration and Customs Enforcement. That is about
1/2 of one percent
.
CLAIM
: Yesterday, Alabama's Attorney General claimed "many of these people are taking jobs away from United States citizens."
FACT
: Alabamas unemployment rate hovers around 10%. To say that one undocumented worker fired is one documented worker hired might be politically expedient, but
the research
actually shows just the opposite. Undocumented workers tend to have different skills, education, and experience levels than native-born workers. In fact, if a 1 to 1 worker replacement was the answer,
why is the Governor considering using the prison population to alleviate a severe worker shortage on Alabama farms?
Where are all those unemployed Americans waiting to work in the fields?
CLAIM
: The Alabama's Attorney General claims there are "difficulties in collecting taxes from these persons ["illegal aliens"], many of whom work off the books, means that many of them are utilizing Alabama's public resources without paying their fair share."
FACT
: According to the Institute on Tax and Economic Policy,
undocumented immigrants in Alabama pay
$25 million in income taxes, $5.8 million in property taxes, and $98 million in sales taxes, for a total contribution of
more than $130 million
.
The actual costs to Alabama's economy have yet to be determined, and no real estimates have been provided by the lawmakers behind HB56. It has always been the case that estimating the costs and contributions of unauthorized immigrants is not an exact science. But Alabama is about to make it a bit easier. No longer will losing your undocumented population be an abstract proposition. In Alabama it's about to be a reality, and with it the economic ramifications of a mass exodus of workers, consumers, and taxpayers from an already struggling state economy.
See more from the source:
http://immigrationimpact.com/2011/10/12/the-facts-and-numbers-don%e2%80%99t-matter-in-alabama/